Thank you Klaviyo for sponsoring Starter Story ❤️
Turn one-time buyers into repeat customers. Try the platform loved by 265,000 brands
On Launching A Carbon Neutral Shipping Service
Start A Small Chops Packaging Business
I'm James Chin Moody, the co-founder and CEO of Sendle. We're the first 100% carbon neutral shipping service in Australia and the United States. Since our inception, we've offset the carbon emissions from 13 billion miles of package deliveries, the equivalent of driving a 1 tonne truck to Mars and back 188 times!
Our customers are small businesses, entrepreneurial side hustlers, and creative individuals who enjoy our simple flat rates and shipping integrations with their favorite eCommerce platforms like eBay, Etsy, Poshmark, and Shopify.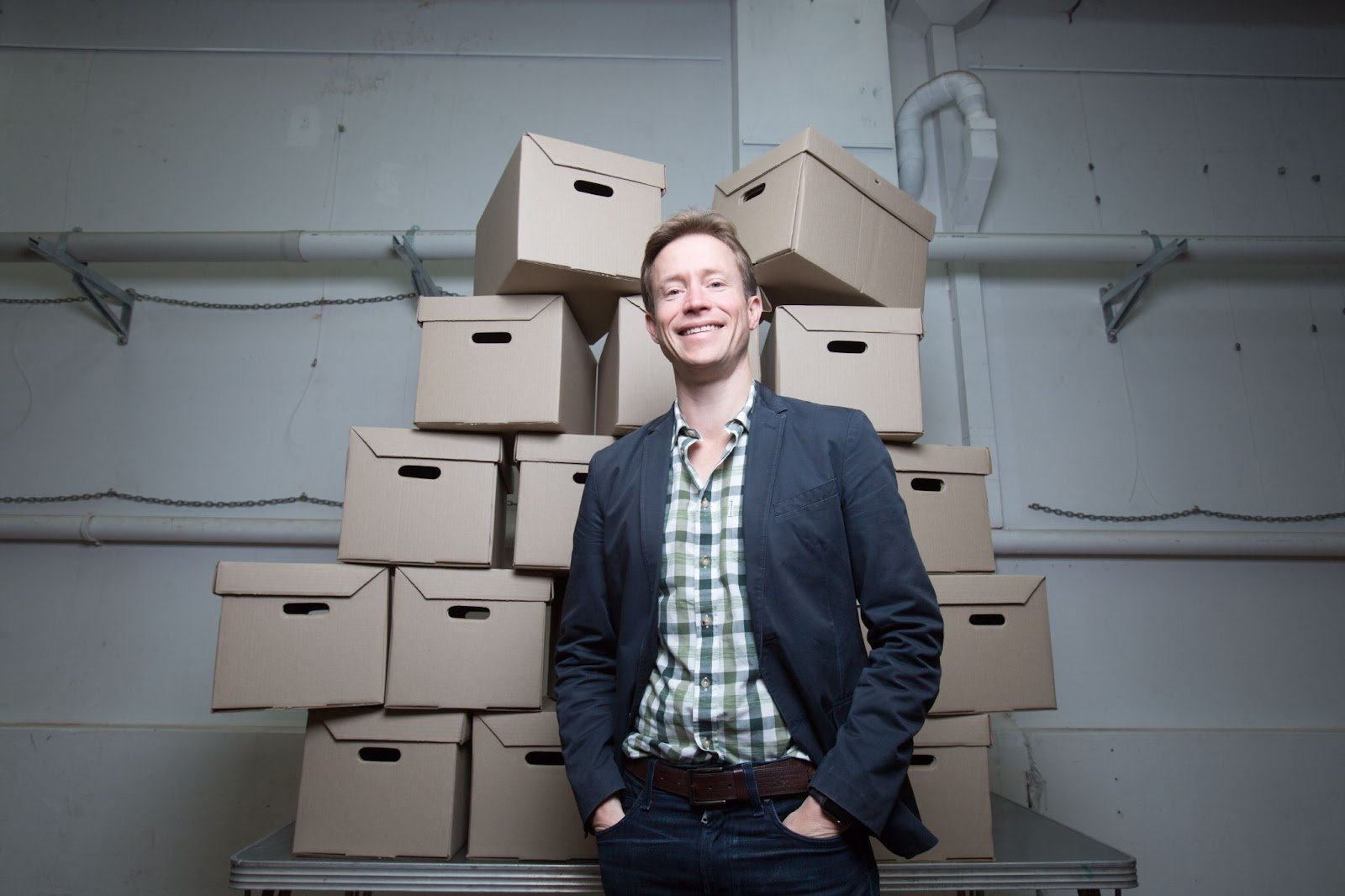 What's your backstory and how did you come up with the idea?
My career started billions of miles from the shipping and logistics world. I was a satellite engineer for FedSat, Australia's triumphant return to space after more than 30 years. From a low Earth orbit, it's easy to gain a new perspective about the planet: it's our only home and it's a closed ecosystem.
By focusing on the customer, you can find ways to make the things they need and want better for them.
I followed a much more environmentally-focused path from there in my home country of Australia, with roles such as National Commissioner for UNESCO, Executive Development Director at CSIRO, and many more. I was also a regular judge on the Australian Broadcasting Corporation show "The New Inventors" and--perhaps most importantly--co-wrote a book.
In The Sixth Wave: How to Succeed in a Resource-Limited World, I explain with Bianca Nogrady that societal progress comes in waves. In the current (sixth) wave, resource efficiency drives innovation because we've realized resources are finite and our environmental situation is precarious.
After all that, it may surprise you to learn that Sendle was born from an idea I had during my parental leave. Parents are early pioneers in the circular economy because everything you need for children is expensive and they outgrow it quickly. It's not good for your budget or the environment to buy kid items and toss them out a few months later, but it's also unfair to expect busy parents to spend a lot of time and money giving them away.
So I created TuShare, a giving marketplace, and with it a shipping option that was cheaper than Australia Post because it leveraged unused capacity on existing courier routes. This very popular 100% carbon neutral shipping arm of the company eventually became Sendle.
Take us through the process of designing, prototyping, and manufacturing your first product.
I created TuShare to connect parents who understood that they didn't need everything for their kids to be brand new with ones who didn't want to throw gently-used items away. Word got around that our proprietary shipping was much cheaper than Australia Post. By listing their item on TuShare and only making it available to the person who'd just purchased it on eBay, sellers there "hacked" the system by repurposing ours.
This was a "light bulb" moment for us, and we shifted focus fully to providing a low-cost shipping platform for individuals and small businesses. Those two groups account for a third of the shipping industry's business annually, but the industry wasn't interested in serving them.
Everything Sendle does is built around the needs of small businesses in an environmentally-conscious manner. A staggering 17% of global emissions come from the shipping industry, and we're leading the charge to bring that to zero.
Describe the process of launching the business.
Branding was particularly important and challenging. We reviewed and rejected a lot of suggested names but lucked out when we stumbled upon Sendle. It belonged to a French shoe company and when it went out of business, its domain name and matching social media handles were all available.
We particularly liked that the name works so well with our key qualities: simple, reliable, affordable.
Within two months of launching in 2014, we already had the shipping volume at Sendle that it took 18 months to build up to with TuShare. We've experienced phenomenal growth ever since.
Since launch, what has worked to attract and retain customers?
We grew our business by identifying and addressing customers' key pain points, and with shipping, there are plenty. Perhaps most importantly, we free them from finding an open post office and standing in a queue. We also provide consistent, flat rates that save them loads of money.
The list goes on. They love not having to pre-purchase postage and get cover against loss on packages valued at up to USD $150. Sendle integrates with their favorite selling platforms so shipping orders automatically generate, along with the labels.
One way other carriers exclude individuals and small businesses are with high monthly shipping minimums. Sendlers can start at our Standard level which has no minimum, and upgrade to Premium (20+ packages a month) or Pro (200+ packages a month) as their business grows.
How are you doing today and what does the future look like?
We launched Sendle in the US in November 2019 not knowing the chaos of COVID-19 was looming a few months ahead. The pandemic devastated many types of businesses while increasing demand for others, particularly online shopping and the shipping that follows.
Business for Sendle has more than doubled during the pandemic and we've seen record parcel volumes as so many consumers shop online. In 2021, we secured US $35 million in Series C funding, led by Afterpay-backed AP Ventures. In 2020, we raised the US $14 million in a growth round backed by King River Capital.
As for the future, we'll always expand our reach and the coverage within any markets we operate in. More service for us will always mean better and cheaper service for our customers. But the recent investment in Sendle has set us up to become the global leader for small business shipping and drive our market expansion in the US.
Through starting the business, have you learned anything particularly helpful or advantageous?
At launch, we registered the slogan "Post without the office" and were promptly blocked by Australia Post for it. The two-year legal battle over their perceived trademark firmly established Sendle as a serious competitor. It turns out, counter positioning is a great way to establish yourself in the marketplace and get the name out there.
We also learned it's good business to lead with your values. We're Australia's first technology B Corp, and customers overwhelmingly tell us carbon neutral shipping is important to them.
What platform/tools do you use for your business?
Most of your Starter Stories will mention the same platforms we integrate with as partners. Whether it's handmade items on Etsy or memorabilia on eBay, Sendlers love easy shipping via a direct connection from their account.
In the office, we believe in open collaboration. Unless something is confidential, it should be easy to find by anyone in the company. To that end, we operate on a Google Workspace (formerly G Suite) but find that Slack is best for easy and fast communication with a visible history. We rely on Trello boards for planning, Notion for wikis and documentation, and Miro when we need a virtual whiteboard.
What have been the most influential books, podcasts, or other resources?
I generally don't listen to podcasts because they take too long to listen to. One exception: The Economist in Audio, the spoken word version of the magazine. I like that it's a weekly news wrapup so I can hear the stories with some analysis rather than as they unfold.
As for books, Traction by Gabriel Weinberg opened my eyes to how you can engineer growth in an accessible and actionable way. For anyone interested in startups, I recommend The Hard Thing About Hard Things by Ben Horowitz. It's a no holds barred account of what it's like to work in a startup and is full of sage advice.
Advice for other entrepreneurs who want to get started or are just starting out?
You're probably out of luck if you want to create something completely new. The marketplace of ideas is a crowded one, which is why we have so many messaging apps and social media platforms that keep copying each other's features. To innovate, look at industries that should intersect or overlap, but don't.
Otherwise, you can focus on making people's lives easier. Remember how hard it used to be to catch a taxi and pay for the ride? Rideshare companies make your life easier by scheduling through an app with real-time visual updates on the map. By focusing on the customer, you can find ways to make the things they need and want better for them.
But there are still many traditional industries that are ripe for disruption. We happened to figure out an innovative way to disrupt the 200-year-old postal industry and we remain committed to our cause which is to democratize shipping for small businesses.
Are you looking to hire for certain positions right now?
We're growing at a fantastic rate and are always looking for passionate people who want to do big things at a smaller company. People should check out our careers page to learn more about our opportunities as well as our culture and values.
Where can we go to learn more?
-
James Chin Moody, Founder of Sendle
Want to start your own business?
Hey! 👋I'm Pat Walls, the founder of Starter Story.
We interview successful business owners and share the stories behind their business. By sharing these stories, we want to help you get started.
Interested in starting your own business? Join Starter Story Premium to get the greatest companion to starting and growing your business:
Connect + get advice from successful entrepreneurs
Step by step guides on how to start and grow
Exclusive and early access to the best case studies on the web
And much more!
PROMOTED
Did you know that brands using Klaviyo average a 95x ROI?
Email, SMS, and more — Klaviyo brings your marketing all together, fueling growth without burning through time and resources.
Deliver more relevant email and text messages — powered by your data. Klaviyo helps you turn one-time buyers into repeat customers with all the power of an enterprise solution and none of the complexity.
Join Brumate, Beardbrand, and the 265,000 other businesses using Klaviyo to grow their online sales.
Starter Story
Wanna see 52 business ideas you can start with less than $1,000?
Join our free weekly newsletter and get them right now.